Previous events
Tupelo, 1337 Grant Avenue, San Francisco, CA
FREE
Tupelo, 1337 Grant Avenue, San Francisco, CA
FREE
Pier 23, 23 Pier, San Francisco, CA
FREE
January 30th, 2014
Hibernation over! Hot Einstein is back and ready for the new year.  We'll now be at Tupelo in North Beach twice a month starting in March: 2nd Thursdays and now 4th Fridays too.  We're putting together bucketloads of new covers and maybe some new originals as well.  If you have any ideas you think we'd have fun playing and you'd have fun dancing too then shoot us an email:  band@hoteinstein.com
November 4th, 2013
Winter is fast approaching!  So that means, you may not catch Hot Einstein at any outdoor event for awhile....we'll be back indoors for a little while....Tupelo next week, Thurs Nov 14th.  
August 29th, 2013
Thanks Mission Dispatch and The NWBLCK for the fun party after Noise Pop. Next up:  We'll be back at our favorite North Beach Bar: Tupelo on Sept. 12th, then at Linden Street Brewery on Sept. 15th. We'll be rocking out while you're chowing down on some whole-roasted HAWG!  (Ok...yes, they are roasting whole pigs, but there will also have a bunch of vegetarian options here: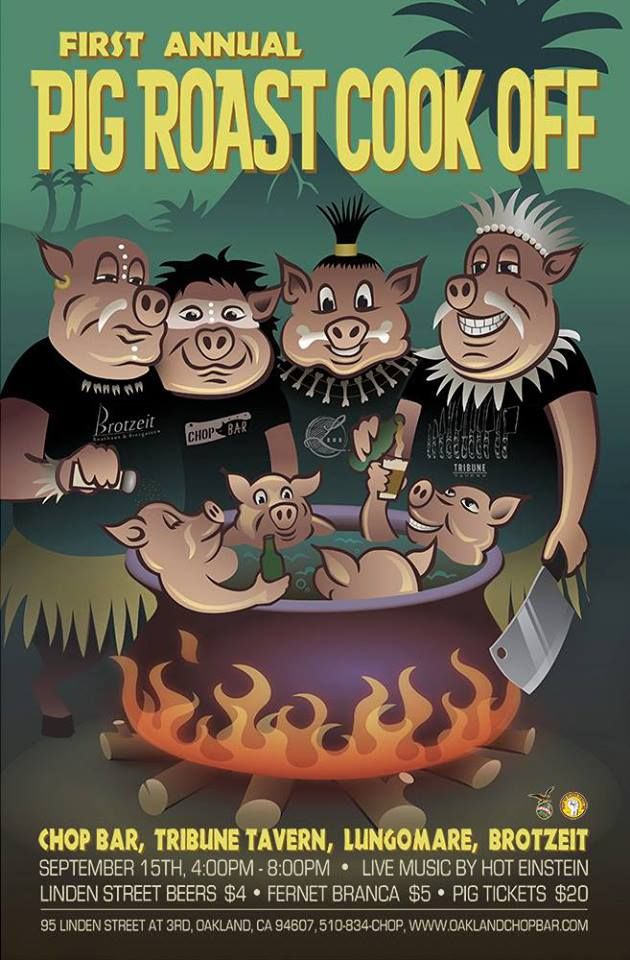 August 13th, 2013
Coming up soon, as in next Saturday, August 24th, we'll be playing at Noise Pop's 20th Street Block Party after-party.  It will be a day filled with music, food and lots more.  Here's a facebook invite for our portion of the event, the indoor after party at Mission Dispatch in SF.  Hot Einstein will play a set, and we'll also be backing up songwriter Bob Wilms for his Glass Decade project.
July 26th, 2013
We're back at the Oakland Museum tonight...it will be another fun-filled night for the "Friday Nights at OMCA" event. Food trucks get going at 5pm, then the band plays from 7-9pm.  Apparently there will be a large game of musical chairs going on as well?!?!
July 12th, 2013
One more show for the week...tonight at the Oakland Museum. Then we'll get back in the studio and finish some new music to share with the world.  Happy Birthday to our bassist, Peter Canton! Come out tonight to celebrate with us if you're in Oakland.
July 1st, 2013
We're just announcing a bunch of fun shows in July!  3 outdoor festival/events in Oakland....great for all kiddies big, small and in-between.  A week from Wednesday (July 10th) you can catch for free at the Oakland City Center plaza from noon til 1pm.  We'll also be at the Oakland Museum for their special Friday night event in conjunction with Off the Grid....lots of people, food trucks and live music courtesy of our ass-kickin' rock and roll band.  Friday Nights at OMCA start at 5pm and go til 9pm, with the band playing from 7pm-9pm.  Those are on July 12th and July 26th.  And we will also be back at Tupelo in North Beach on Thursday July 11th starting around 9pm and playing all night!  We're happy to have original Hot Einstein drummer Joe Bagale filling in for Rob on 7/11 and 7/12.  Welcome back Joe!
June 5th, 2013
Well folks, most things come to an end at some point...and at this time the band has decided that we won't be hosting a regular event at Disco Volante each month.  We had a great run of 2 years there, playing (almost) every month.  It was a blast, and we will always remember that venue as the place where we were able to develop as a band.  It was the site of our first ever public gig!  Meanwhile, you can catch us in SF at Tupelo...we'll be playing there more regularly in the future...and for you East Bay faithful, we have several East Bay shows lined up in the coming months, so stay tuned! 
April 30, 2013
Yeah, you read that right....Thursday May 23rd. That's our next Disco Volante show.  Scheduling conundrums resulted in the Thursday situation....but we really felt it necessary to give the DV faithful their monthly dose of Hot Einstein.
April 2nd, 2013

We just got word that we will be performing at Bay to Breakers...somewhere near the very end of Golden Gate Park.  More details forthcoming, but it should be pretty wild out there.  A 5am call time for a gig is something new for this band.  We'll play from 7am-11am.  Good morning.
March 7th, 2013
The times they are a changin'!  ...but not that much.  You may have noticed that we won't be at Disco Volante for the 3rd Saturday this month.   But fear not!  The Einsteiners will still be at Disco this month on Saturday, March 23rd.  We decided to change things up a little bit, and we will be making the 3rd FRIDAY our regular night starting in April.  Stay tuned! 
Also...barbecue season is approaching.  We love ribs.  We love barbecues.
January 30, 2013. Here we are, almost a month into the new year already!  Put that helmet on! Ground control to Major Tom! Take those protein pills! What the hell are we talking about...oh yeah.
The band is thrilled to be getting some spins on UC Berkeley radio station KALX.  When we sent them the disc, we included a note explaining how "Streets of Mercy" was originally entitled "Streets of Berkeley"…they seemed to dig that. Listen closely to the lyrics, and you'll hear a lot of references to Berkeley landmarks and characters.  (Is the Jokeman still around?…he used to always be outside of Fat Slice on Telegraph telling jokes for change) Along with playing the record some, we've also been invited to perform on their Saturday night show "KALX Live"…that will be at 9pm on Saturday February 9th, we'll play some songs and then get interviewed.  Thrilling!  So tune in at 90.7 FM in the Bay Area or listen online.  It was great to see so many folks out at Disco Volante this month…we'll be back in February…the 16th to be exact.  Perfect timing for a V-Day follow-up date, or if V-Day didn't go so well, come on out and meet someone new or drown your sorrows in whiskey and frankfurters.  Then allow us to whip you into a frenzy of uninhibited dance moves.  We don't judge.  Get your freak on, everyone is welcome…it's normal to be weird.  

Hey…BTW (bee-tee-dubs?)…do you know any DJ's?  We're ramping up our radio campaign, and if you know someone who would like to spin our record, let us know!  Hit us back at this email address, and we'll send you 2 copies of the album…one for you and one for your DJ friend.  Podcasts are cool too!  This is as grassroots as it gets…DIY to the bone.  Surely we'd dig the backing of a label, big or small, but apparently they haven't caught on to how cool we really are, right?!?!  Yup…it's a crap load of work on top of just trying to write, record and perform good music, let alone promote said music…but it's all worth it if we get another chance to play for a roomful of smiling faces.  And any press is good press!  Do you have a blogger friend that wants to rip our album to shreds?!?!?  Bring it on!  We love deconstructive criticism.  

…and we look forward to deconstructing the walls of a bar near you.  At the heart of it all, we just wanna be the hippest wedding band around and a slimy, grimy ass-shaking bar band…no delusions of grandeur here.
Until next time...thanks for listening!
1/8/13 Welcome to 2013!
Yes.  We made it.  Hot Einstein made it too!  It was a fun year, and challenging too.  Our beloved drummer Joe Bagale parted ways with the us to pursue a role in the Mickey Hart Band (Mickey, if you didn't know, is of Grateful Dead fame).  If you come to a lot of our shows, you probably noticed a rotating cast of drummers filling in with us.  In fact, we got to play with a lot of fantastic musicians.  Andrew Griffin has now settled in as our regular drummer.  We put out an album as well!  We're quite proud of it, and thankful to all of you who have been rocking it on your iPod or in your car, or giving it away to friends for Christmas!  THANK YOU! We look forward to more fun shows and new venues in 2013 as we plan on expanding our reach beyond our regular gigs at Disco Volante.  In fact, here's your chance to be part of the Hot Einstein story: if you'd like to see us come to your neck of the woods, send us and email and let us know what the fun clubs around your hometown are!  Expect more regular performances in the North Bay, South Bay, SF and the peninsula this year.   We're busy writing and rehearsing new material so our monthly DV show can stay exciting for everyone, including us.  Learning new stuff keeps us on our toes!  By the way....we love fan input.  Some of our favorite cover songs we've chosen to play were because of a fan suggestion....so...keep 'em coming!  We're all ears....we want to make every show something special and different, especially for those of you that constantly support us.  Got a swell idea for us, or perhaps a lead on a gig?  Don't hesitate to email us: band@hoteinstein.com ....someone from the band will be getting back to you.
11/26/2012 And a special night it was! Thank you to everybody who came out to celebrate the release of our album at Disco Volante.  That's been a great monthly event for us and (hopefully) for all you great folks who have made it a regular monthly hang.  We couldn't do it without you!  We look forward to closing out a great year of gigs at Disco Volante next month on December 15th.  We also wanna give a big shout out to Felsen for hosting us at 50 Mason Social Club last week.  We we're happy to make some new friend and fans and play a rare SF gig.  (attn:  cool SF live music clubs...where are you?  Book us...we're fun)  The band is so grateful for all the awesome reactions we're getting from the record, we're glad you're listening, glad you like it and so thrilled that you're sharing it with others!  It's very important to share with others, right?!?!  Play nicely, too.   Hopefully we'll pull together some new originals to close out the year at DV in a few weeks.  Also look out for some fun new covers....we got loads of ideas, and we're always on the prowl for more!  Hit us up on Facebook or email us if you have an idea for a cover song you think we could rock out on.  We've been throwing around some ideas: more Talking Heads, Heart, Bowie, or something newer...Outkast, perhaps!?!  Let's see what happen!
11/16/2012  Looking forward to tomorrow!  Hopefully the rain doesn't scare you all away.  Aside from being our album release show, it seems our Disco Volante residency has a growing audience every month.  Thanks for all you faithful folks who come back each month, and (apparently) drag...uh, em, I mean...encourage your friends to join in the fun.  If you already bought the album through our various "pre-release" sales....thank you very much.  You are helping to keep independent music available in the world.  If you are digging it a lot (or even if you have some valid criticism) please take a few moments after our 11/20 release date to review the album online...iTunes, Amazon and the like.  We're very torn about Spotify and Pandora....as a fledgling band struggling for exposure, they seem like useful tools of discovery for would-be fans.  But...the downside is that they pay about  $.0005 per play. I think that's the right amount of zeroes (hundredths of a cent?). 
Read more in-depth here: http://pitchfork.com/features/articles/8993-the-cloud/  (Yes, yet another article on the music biz) 
What do you think of all this?!?!?  Should artists stop whining about cash and get real jobs? Or do we need the $$$ so that we can have the time and energy to truly hone our craft and contribute more beauty and hope to an often dark and ugly world? It's quite an interesting time we live in.  The techie version of the Wild West if you ask me.  Alright, time to get back to practicing for tomorrow's show....oh yeah, and tonight's show.  Darrin, Karyn and myself will be doing a mini-acoustic version of our stuff in the Fillmore Poster Room tonight...come say hi if you're going to the Gary Clark Jr. show.  We're calling our selves Little-Stein. Peace, MB
11/4/2012 Gearing up!  Thanks so much everyone that's already bought the album.  If you are digging it, please take a minute to review it on iTunes, Amazon etc. once it's out for "official release" on November 20th. That date is fast coming and we need everybody's help to build a little publicity.  If you have any music blogger friends out there who might like it, let us know...or send them along to our BANDCAMP PAGE where they can listen to the whole album.  Our ALBUM RELEASE SHOW is less than two weeks away.  Let your friends know...come on out....tweet it, tube it, book it!  It will be different from our other Disco Volante shows in that we will be debuting a whole bunch of new songs from the album.  Coooool!  Drop us a line, stay in touch...we're so happy that you all are supporting this fledgling rock band from the ground up. 
10/20/2012  We are fired up to rock the Disco tonight!  This is your first opportunity to cop our new album.  We're calling it a "pre-release" for our closest fans and friends, because it won't be available from the big online retailers until November 20th.  So come on thru, get your copy, and help us build some buzz around our official release date next month.  We can't do any of this without the support of you...the fans!
10/15/2012  Yup...it's done.  The album is here. We have physical CD's.  We will be making those available to the public for the first time THIS SATURDAY at our monthly Disco Volante show.  This isn't so much a CD release party, as a "pre-release" party.  We're hoping to generate a little excitement leading up to the official release date of November 20th.  At that time the album will be available online at all the big retailers.  But honestly, if you want this fledgling band of rock & roll revivalists to pocket ALL of the money you spend on our record, the best way is to buy it directly from us at a show.  If you can't make it to a show, we will have an online shop set up through Bandcamp very soon, which is a nice little company that will pilfer less off the top than the behemoths like Amazon or iTunes.  And there ya go....a short lesson in the economics of the independent record biz. 
9/28/2012  For real this time!  Our album is almost here.  It is literally being manufactured right now.  We will have physical CD's exclusively for the folks that come to our next couple Disco Volante shows.  It will be released to the general public on November 20th.  In the meanwhile...have a listen to a few of the tracks right here on our site.
8/20/2012 We'd like to extend a big thank you to Disco Volante, The Chop Bar and the Linden Street Brewery for an awesome weekend of music!  So great to see so many friends make it out to the shows. The band enjoyed all the delicious food at the brewery...we'd recommend checking out the pig roast the 3rd Sunday of next month.
7/17/2012 Three shows in Oakland this week!  Two noontime concerts...City Center on Wednesday, Kaiser Rooftop Gardens on Friday.  Can't wait to see you there.  Then, of course, we will be at Disco Volante on Saturday.  Plus...the album is ALMOST done. We are still mixing over at Bird and Egg Studios.  Yes, we said last month at DV that we'd have them at DV this month, but of course these things end up taking longer than expected.  They will be done in July, but physical CDs won't be available by this weekend. Sooooon!  Thanks for your patience, and thanks for being a friend of Hot Einstein!
6/12/2012  We're thrilled to be back at Disco Volante this Saturday.  Comedian Jacob Rubin will make us laugh in between sets.  Speaking of being thrilled....we're even more thrilled that we've finished tracking the debut album, and now we only have to wait for mixing and mastering and we will be rolling out the discs in July.  It's been an amazing first year for this band, and we're so happy that you have been a part of it!
5/21/2012 We're up to 76 likes on Facebook!  That's freakin' amazing.  Hey...we just posted some new shows on our calendar.  Sorry we weren't at Disco Volante last weekend to entertain you.  You probably weren't there either because they were closed for a private event.  D'oh.  That's ok, we got to make music at good friend's birthday party.  (Name withheld to protect anonymity) Either way, we'll be back at Disco next month.  We promise some more new cover songs and probably a couple new originals as well.  And we're just ramping up to release our album...our target date is July. Wish us luck , and thanks for listening!
4/26/2012  Hey folks!  Thanks to everyone who made DV a blast this month....friendly reminder here...we will not be at Disco Volante in May, but we will resume our 3rd Saturday residency in June...and that night's going to be a special blowout kind of night.  In the meanwhile....we're in the studio finishing up the debut Hot Einstein record, which are putting out this Summer.  Stay tuned to our site and our Facebook page as we will be adding more shows to our calendar soon.
4/13/2012  Happy Springtime, lovelies!  Even though it' been thunderstorming over the Bay, we're already fired up about spring.  The Einsteins have some cool shows lined up for Spring and Summer.  We'll be debuting some new original material and the album is almost done!  Next on the horizon is Disco Volante...that's going to be next Saturday, April 21st.  We'd like to thank all the regulars who have really turned our monthly night at DV into something special...it's been nearly 1 year since our first gig there, and we've been loving it ever since.  Speaking of which, tax day (April 15th)  represents the 1-year birthday of Hot Einstein....so that is Sunday!  Woooooooo!  Let's make Rick Flare proud.  See you soon...we'll try and keep our updates more regular, as some of our fans have pointed out that we've been slacking...or hibernating.  Not sure which, but we have been in the cave that is the recording studio this Winter.
1/30/2012 Yeehaw!  The fellas of Hot Einstein were in the studio til the wee hours last night banging out tracks for the upcoming album.  By our count, we've got about 9 songs within reach of being finished. That's an album's worth!  Soooo....look out for that coming down the pipeline in the Spring. We'd like to especially thank Nino Moschella and Bird & Egg Studios for their support and willingness to have Hot Einstein working away in that beautiful studio. Meanwhile, we're looking forward to seeing you either at 50 Mason Social House this Friday, or next weekend when we're back at Disco Volante
1/24/2012 Happy New Year people!  Thanks to all the lovely folks we saw out at Disco Volante this past third Saturday.  It was our most well-attended night yet of our 3rd Saturday residency there.  We'll be back next month, February 18th.  We got some SF shows lined-up as well for the people on that side of the Bay. February 3rd at 50 Mason Social House is on the horizon.  The band will be back at Bird and Egg studio working on some original material this weekend...so be on the lookout for some sneak previews of that stuff.
12/12/2011  Brrrrrrr....baby, it's cold outside! But we're planning on warming you up with some tunes this Saturday at Disco Volante.  Come thru and enjoy some of their splendid corn nuts.  Really, they are splendid.  They make a good pretzel at DV as well.
11/28/2011  Well...we hope everybody had a lovely Thanksgiving Holiday last week.  Hot Einstein members Joe Bagale, Karyn Paige and Matt Berkeley rocked The Independent in San Francisco on Saturday night, as Karyn Paige and The Scoundrels, playing Karyn's original music to a packed house and stellar bill that also included Bayonics, the Shotgun Wedding Quintet and Bay Area hip-hop legends LATYRX.  What a night!!!  Meanwhile, back at the ranch....Hot Einstein is preparing for a show at Cafe Van Kleef this Thursday, December 1st.  It should be a great night at a uniquely Oakland institution. Hope to see you there
11/21/2011 Hey there people!  Thanks to all the friendly faces we saw at Disco Volante on Saturday.  It was perhaps our best show yet.  In the short time this band has been together, we've been lucky to have some special shows...and to hear from so many of you how  "it keeps getting better each time out" is really quite flattering!  Well, we'll do what we do...we'll stay humble, and keep rehearsing and learning new tunes so that it keeps on rolling and staying fun for you all, the fans.  We hope everyone has a wonderful holiday this week, filled with love, joy and compassion.  Maybe we'll catch you next week at Cafe Van Kleef, Thursday December 1st.
11/15/2011  Yo yo yo!  Well, we've been busy working on new tunes....some originals we'll bust out at Disco Volante this Saturday, and some covers by some of our favorite bands.  The fellas of Hot Einstein have been having a great time investigating the music of Booker T and the MG's as well as The Meters....two of the all-time classic rhythm sections.  We had a blast rocking Farmer Brown the last couple weekends....sorry if we didn't give you advance warning, it was a last minute thing that came up...subbing for our friends in Hot Pocket.  But now's your chance to see us...this Saturday back at Disco Volante. 9pm or so??? tell a friend, come hang out, it will be fun times.
10/24/2011  Whoa??  It's been a month already since our last news post?!??!?!  Crazy.  Thanks all the old friends and new friends at our last couple of shows.  Quite a rowdy crowd at the Blackthorn Tavern last Saturday night.   They seemed to like our original tunes as well as our tried and true classics.  We will be back in the studio finishing up a collection of these original tunes soooooon.  Meanwhile, come out and see us at Disco Volante next month, November 19th, and stay tuned for other cool shows we'll be scheduling any day now. Peace!
9/22/2011  What's up, people!?!? We've been here, there and everywhere making music and recording ourselves doing so.  The whole band got in a room together to record some cover songs and that was a blast.  We'll try and post some of those tunes soon...we did it the old fashioned way...no overdubs, just a band in a room making music.  I guess we're kinda old school like that.  We're also working on the debut Hot Einstein record, a collection of original songs...that's one is going to take a bit longer, but we'll be excited to share it with you when it's ready.  TONIGHT....we'll be at Disco Volante in Oakland.  The event is being put on by Don Julio, so if you like tequila, you should probably come.  See you there!
8/4/2011 Hey friends!  Thanks everyone who made it out to Mojito last Friday and Disco Volante on Tuesday.  What a blast those shows were....we do appreciate your smiling faces and dancing feet!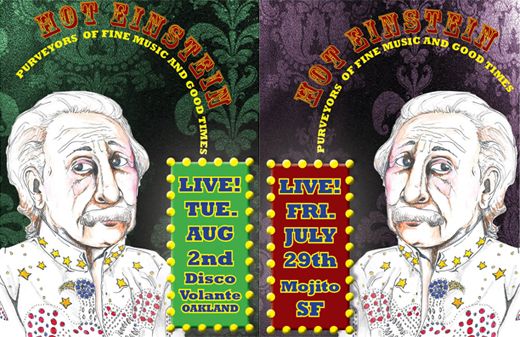 7/15/2011 A couple shows have been confirmed!  For all you San Francisco folks: We'll be at Mojito in North Beach on Friday, July 29th.  For all you East Bay folks:  We'll be a Disco Volante again on Tuesday, August 2nd.  The band is hard at play learning new songs for these gigs, some more of your favorite classics, and some new original material.  You will not need to cross a bridge to hear that band you like!
6/24/2011  We rocked 3 shows in Rochester, New York...Bagale's home town!  We barbecued with his parents, who fed us like kings.  Thanks Mr. ad Mrs. Bagale!!!  Then Disco Volante on Tuesday was a blast.   We're probably going to confirm another DV show in about a month.  KP, MB and PC met up today to discuss the finer point of BBQ ribs, Four Loko and music.
5/31/2011  We're hard at work learning some new tunes!  AND we just CONFIRMED another gig at Disco Volante, scheduled for Tuesday June 21st!
5/25/2011 We do weddings, barbecues, bar mitzvahs and any event where you offer us some free tacos and cake.